Ziegler Minerals and Grinding Technology
Ziegler & Co GmbH (founded 1895) is producer and international trading partner for industrial raw materials. Center of our activities is the developments of raw materials optimized for the processes of the customer.
We upgrade raw materials to individual optimized active components for our customers. To achieve this by our application Know-How, the logistic service of a international trading company and our raw material.
Ziegler – Logistics
Our decentralized organised Warehousing in several destinations in German guarantees continuous fast deliverytimes in all of central Europe. Our logistics network allows us to fulfill individual customer requirements.
Just-in time is not only a beautiful word but aprt of our daily work in order to give an advantage to our customers and optimize your production costs.
Ziegler – Quality
Transparency and Tracability from the extraction to the refinement and the transport untill the usage of our raw materials is our mission in our ISO 9001 certified managemant system.
Our internal laboratory with qualified profesionals is euiped wiht newest technology in order to guarantee and monitor a constant quality.
Ziegler – Environment
Concious interaction with our environment, our Resources and all people that work with us is the basic requirement for every project. To guarantee these values and believes we are certified by ISO 14001.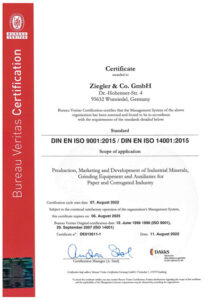 Ziegler – Sustainability
Sustainability is important for Ziegler: essentially all our raw materials are of natural origin. Our processed products are all non-dangerous substances that often replace dangerous and harmfull products.
Ziegler was awarded the gold rating by EcoVadis for its sustainability management with the gold rating and is therefore one of the top 5% of all companies evaluated. EcoVadis evaluates the company in the four subject areas "Environment", "Social", "Ethics" and "Sustainable Procurement".